Outsourcing can clear project schedule bottlenecks, help you meet timescales and free up your engineering team to focus their efforts on designing a differentiated product. But you need to choose an outsourcing partner wisely.
PCB Design and SI Analysis Expertise: We are experts in both board design AND signal integrity analysis. Using our advanced design-flow and the very latest tools we can VERIFY your design at an early stage, leading to reduced risk of failure.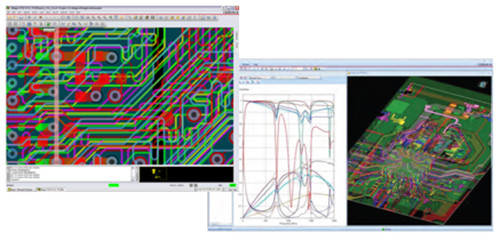 PCB Technologies: Our familiarity and experience with the latest technologies provides an extensive knowledge base from which you will benefit. 
Flexible and Responsive: As the largest independent PCB design bureau in the UK, we have the capacity to be flexible and highly responsive, with the ability to service your needs at very short notice. 
Fast Turnaround Times: Our expert level tools and staff mean you can expect faster turnaround times. This reduces time-to-market, helping you maintain your competitive edge.
Manage Costs: Designs are completed on schedule so you can rely on meeting a known budget for your project, thus avoiding cost overruns. 
Focus on Quality: Our working practices are approved to ISO9001:2015 and we have a long track record of success and customer satisfaction. We maintain close communication with clients and use web meetings and screen sharing for formal and informal design reviews.
Complete Service to Manufacture: We can provide a complete service from design to manufacture and test, providing a "one-stop shop" for clients who want to maximise the benefits of out-sourcing.
In summary, our experienced PCB design team coupled with leading EDA systems ensure that we produce quality "right first time" printed circuit board designs. Our unique approach and technical ability reduces the inherent risk associated with PCB design and results in fewer iterations of your layout.
Over the years we have developed a reputation for, and have become synonymous with, responsive, reliable and technically sound PCB design across many diverse industries, both in the U.K. and abroad.
To complement PCB design, we offer fabrication, assembly and test solutions, that can add significant value when you are implementing new board technologies or assembly methods. We design a diverse range of PCBs, each with their own characteristics and demands for robustness and reliability and by retaining control of the entire process we can select the best partners for your product. Our collaborative approach with our partners emphasises our commitment to providing value-added activities to match our client needs.