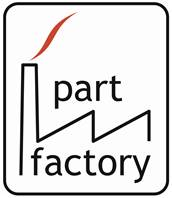 Creating and maintaining schematic parts takes a significant amount of time and resource and needs careful management! A small error in part creation will propagate through the entire design-flow and will often not be identified until expensive hardware has been manufactured.
An attractive option for design teams is to outsource library creation/management to specialists like ALS. When a client invests in our 'part factory' library management services they can expect to receive a high quality database of schematic components. Using a maintained CIS database means that the client is not just placing graphic 'symbols' but is selecting real components that come complete with our 3D IPC-7351 footprints, manufacturer's part numbers, etc.
Maintained database reduces load on design team

Instant access to a huge library of existing components

High quality IPC footprint pre-assigned to all parts

Height information included to enable 3D modelling

Parameterised database allows purchasable BOM export
Having a specialist company design both the schematic symbol and associated PCB footprint gives a great deal of integrity to the library of components. Using this approach, there is virtually no further effort required to pass the design from schematic netlist to PCB layout as all component information is embedded in the schematic data.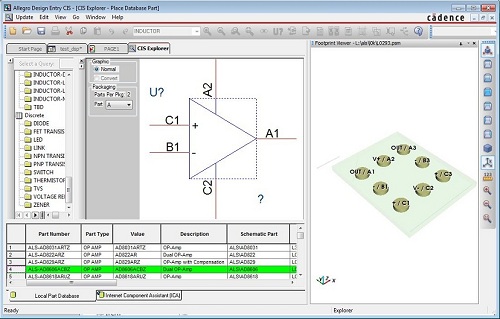 During schematic design the engineer is able to select components directly from the parts database. The user is able to select parts based on any parameters and information that have been included in the database. Furthermore, a preview of our PCB footprint is displayed alongside the schematic symbol, complete with pin number and pin name. 
This ability to interrogate both the schematic part and footprint at the initial design phase gives the design team great confidence in the resulting printed circuit board.
Having this extra layer of information built into the schematic makes the transition from schematic to PCB seamless. All the laborious (and often repetitive) effort required to assign footprints at the PCB layout stage has been removed. Also gone is the risk carried by repeatedly assigning footprints.
Whether you are a start-up in need of a ready-made library, or an existing team in need of a change of working practice then our library services can help you.
If you would like more information on how we can help manage your schematic library parts, please contact us today!
ALS provides a range of services for front-end circuit capture. We mainly focus on three flavours of tool suite for schematic capture, depending upon client requirements, namely:
Cadence OrCAD Capture CIS

Cadence Allegro Design Authoring 
Altium Designer
OrCAD Capture has become an industry standard schematic entry tool. It has evolved over the years into a very powerful front-end tool, boasting seamless bi-directional integration with PCB design tools. This enables data synchronisation and cross-probing/placing between the schematic and the board design. OrCAD Capture allows designers to backannotate layout changes, make gate/pin swaps, and change component names or values from board design to schematic using the feedback process.
Every new release of OrCAD Capture sees continual feature development, reinforcing our belief that this is the defacto schematic entry tool now, and into the future. In fact, if you are in education, you can get a full functioning OrCAD tool suite for FREE, paving the way for a new generation of engineers to choose OrCAD as their preferred choice.